Double door luxury coach with Weichai Engine Euro III 49+1+1 Seater
Dongfeng Mid-south Enterprise Co.,Ltd. as the subsidiary company of Dongfeng group, is specialized in exporting Dongfeng commercial vehicles, auto components and maintenance equipment of vehicles. For 45 years development, Dongfeng commercial vehicle has cooperated with Japan's Nissan, Renault, ZF gearbox, France Fusite, PAS in France and the Cummins, Fast of the United States and other international autogiants to carry out the strategic development of the products.
Here, we enclose our product list as followings for your reference.
Dump Truck Series:6×4, 8×4 ---Heavy duty tipper Dongfeng T-Lift with loading capacity 20 to 55Ton,6×4, 4×2--- Medium duty tipper Donfeng Kingrun with loading capacity 15 to 20Ton,4×2--- Light duty tipper truck Dongfeng Rituo with loading capacity from 3Ton to 14Ton.Tractor Series: 4×2,6×4 Dongfeng Kinland Tractor Head Special suit for middle and long distance transport.
Cargo Truck Series:Dolica 4x2 ---light cargo truck with capaity from 2 to 10 ton,Capation 4x2 ---high end light cargo truck with capacity from 2-10 ton,Kingrun 4x2 ---Medium duty cargo truck with capacity from 13-20 ton,Kingland 6x2, 6x4 and 8x4 ---Heavy duty cargo truck with capacity from 20-40 ton.Special Purpose Vehicle Series: . Concrete Mixer Trucks, Suction Sewage Trucks, Sweeper Trucks, Fuel Tanker, Water Tanker, Refrigerated Trucks, High Platform Truck, Garbage Trucks, Fire Fighting Trucks, Truck Crane and So on.Auto Spare Parts: Series Auto Parts of Series Vehicle and Machinery, like filter, PTO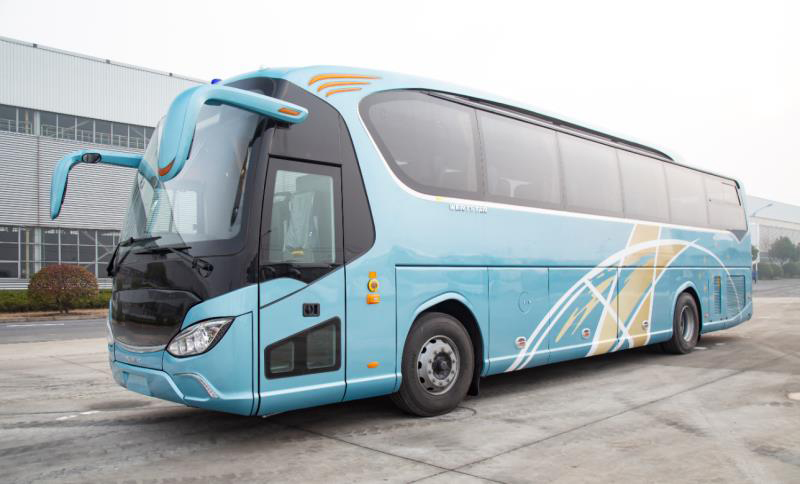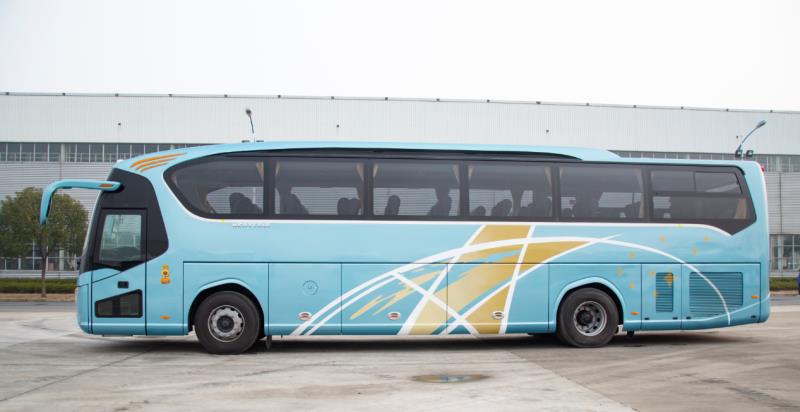 Overall specification

Overall length(mm)总长

 12000

Engine

Engine model 发动机型号

WP10.336N

Overall width(mm)总宽

 2550

Manufacturer制造商

Weichai

Overall height(mm) 总高

 3670

Engine position 位置

Rear Engine

Wheel base (mm)轴距

 6100

Fuel Type 类型

Diesel

F/R overhang(mm)前后悬

 2550/3350

Max power (kw/hp)/rpm最大功率

247(336)/1900

Max G.V.W(kg)最大总质量

 18000

Max torque(N.M/rpm)最大扭矩

1500/1200-1500

Seat capacity 载客数

 49+1+1

Tank volume (L)油箱量

400L

Max speed(km/h)最高速

 120

Emission Standard 排放

Euro III

Kerb weight(kg)整车质量

12500

Seq

Item

Standard

Remark

1

Engine发动机

Weichai engine WP10.336N (336hp)Euro III

潍柴WP10.336N 336马力 欧三发动机

2

Fuel tank 油箱

400L

3

Gearbox变速箱

ZF 6S1610BO 6 shifts manual gearbox

ZF6S1610BO 6档手动变速箱

4

Clutch离合器

Valeo clutch φ430

法雷奥Φ430膜片弹簧离合器

5

Front axle前桥

HANDE Front axle with drum brake, rated loading: 6.5T

汉德6.5吨前桥,前鼓式制动

6

Rear axle后桥

HANDE Rear axle with drum brake, rated loading:13T

汉德13吨后桥,后鼓式制动

7

Braking system制动系统

Service brake: separate dual circuit air brake system,

Parking brake: storage energy spring braking, acting on rear axle

双回路气压制动,储能弹簧驻车制动

8

Suspension悬挂

Air suspension

空气悬架

9

Steering转向

Integral hydraulic power steering,left hand drive

整体式动力转向,左舵

10

ABS

ABS 

11

Automatic slack adjuster

自动调整臂

With automatic slack adjuster

自动调整臂

12

Retarder

缓速器

Terca eddy current retarder

特尔佳电涡流缓速器

13

Centralization lubrication

集中润滑

No

无

14

Cooling system

节能风扇系统

Mechanical fan机械风扇

15

Tire轮胎

295/80RR22.5 tubeless radial tire With spare tire and rim

295/80R 22.5无内胎子午线轮胎,普通钢圈, 带备胎

16

A/C空调

Overhead dependent A/C 32000kcal

顶置非独立空调,3.2万大卡

17

Heater暖风

Engine-based heating

发动机余热水暖

18

Defroster除霜器

Front windshield defroster 

前风窗除霜器

19

Passenger door乘客门

Front & middle door: Pneumatic outward-swing door, with remote control lock 前、中气动外摆门 带遥控锁

20

Side window侧窗

Fully closed side window(last sliding window left &right), grey glass

全封闭粘胶式侧窗(最后一排左右尾窗带内嵌式推拉窗),灰玻

Windows and windscreen: the front, rear and side windows is made of secured glass

21

Passenger seats

乘客座椅

49 seats,high backrest adjustable passenger seat, 2 point safety belt for each seat, with footrest

49座高靠背可调式座椅,靠背前后可调、无横移,带脚蹬) 全车座椅配2点式安全带。




22

Driver's seat司机座椅

Luxury (air suspension) adjustable driver's seat and standard tour guider's seat, with three-point safety belt, black leather seat cover.

高靠背气囊减震可调式司机座椅,标配导游椅,黑色仿皮面料,采用三点式安全带

23

Interior lighting车内照明

Standard independent roof lamp, step lamp, luggage compartment lamp

标准单体式内顶灯、踏步灯、行李舱灯

24

Trim内饰

Standard AC inner trimming 标配空调内饰

X2型分体式双边行李架

24+

Side luggage compartment door 行李舱

Standard

标配行李舱,手动平移式行李舱门

25

Rear-view mirror后视镜

Manual rear-view mirror

手动后视镜

26

Floor地板

Bamboo glued floor with welded floor cover

竹胶地板(凹地板),高级耐磨地板革

27

Digital clock电子钟

Digital clock电子钟

28

Emergency exit

紧急出口

Two emergency exits with Ventilators 

2只 带电动换气扇安全天窗

29

Recorder or GPS

行车记录仪

No

无

29+

Audio & visual equipment

视听设备

MP5 hard disc player

2 pcs 19-inch LCD color display (front fixed type, middle electric folding type)

MP5硬盘播放器+2只19寸液晶彩显(前部固定式,中部电动折叠式)

30

Curtain窗帘

Blue soft fabric curtain 蓝色折叠式布质窗帘

31

Sun visor遮阳帘

Front windshield with sunshade, driver's window roll sunshade

前挡风玻璃手动双幅遮阳帘,司机窗卷阳帘

32

Guard rail护栏

Standard 软化护栏,驾驶椅后带导游靠背

33

Reverse monitor倒车监视器

7 inch Reverse color monitor

7寸彩色倒车监视器及倒车探头

34

Fire extinguisher plant

灭火设备

Rear engine room with temperature alarm and fire

extinguishing device(3 units)

后发动机舱仓温报警系统及自动灭火器(3只)

35

Paint油漆

Imported metallic painting

进口金属漆,油漆颜色图案 待定

36

Use conditions

Normal road condition

一般路况

37

Other special requirements

1. Semi-Monocoque structure半承载结构 (底盘为三段式中间桁架结构)

2.Fire extinguisher min 4kg cylinder 至少4KG灭火器

3.Imported AMP plug 进口安普插件

4.Electro coating for whole vehicle 整车电泳



COMPANY INTRODUCTION
Founded in 2017, HENAN TARZAN INDUSTRIAL CO., LTD., specializes of international export business for commercial & passenger vehicles, construction machinery, spare parts and so on. With open mind, global perspective, strengthen with foreign famous enterprises and domestic industry leading enterprises of the joint venture cooperation during the recent years, and now our cooperating manufacturing base covering the concrete mixing station, cranes, wheel loaders, excavators, forklifts, road rollers and spare parts, and other wide range and variety of products series, with high quality, excellent service marketing strategy, we have been in the international business with significant market share.
FAQ
1. Where are you located ? Do you have your own factory ?
Answer : Definitely, we have our own factory and located in Zhengzhou city , China.
2. Could l come to your company , visit your factory ?
Answer: sure, most welcome you come here , visit our factory any time.
3. Is it okay for you pay by L/C
Answer: Yes, we are rich experienced L/C.
4. Do you have Quality assurance policy for your customer ? and could you provide OEM service?
Answer: we provide quality assurance only for new vehicle. and it is our strength to provide OEM service.
Contact way
Monica
Zhengzhou Dongfeng Mid-South Enterprise Co., Ltd.
Add: No. 28.Dongfeng Road, Jinshui District, Zhengzhou.
Working Schedule: Monday--Friday 9.00-18:30