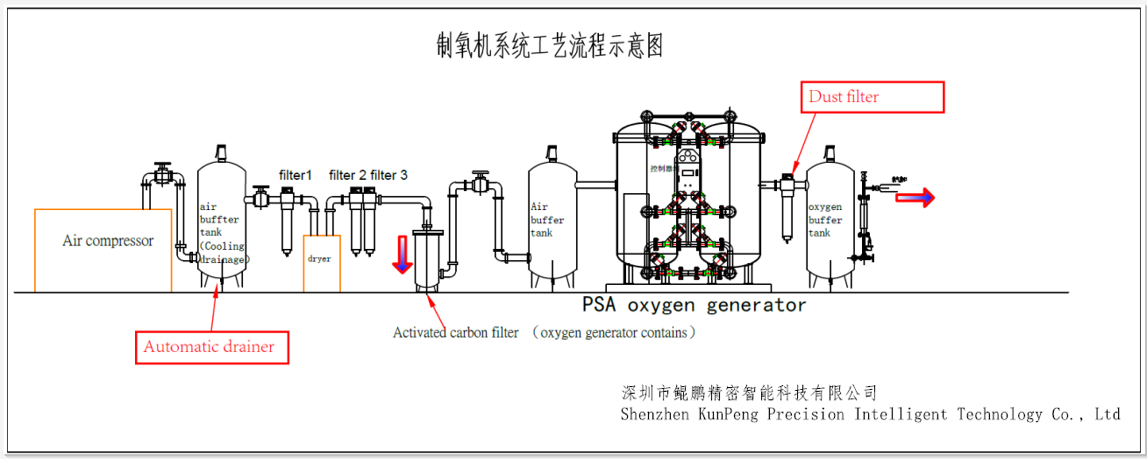 PSA Oxygen generator

Air Compressor power: 15kw; cold dryer power:0.4kw; oxygen generator power: 0.2kw; oxygen booster power:7.5kw provides dependable Oxygen production equipment supply to meet middle and small amount oxygen on-site requirements. We take air as raw material and utilize the Zeolite Molecular Sieve (ZMS) as absorbent. ZMS absorption of nitrogen in air is much larger than its absorption of oxygen under certain pressure, thus through programmed on and off process of the automatic pneumatic valves, tower A and B will work alternate to achieve pressurized adsorption and depressurize desorption, complete the separation of Oxygen and Nitrogen and reach the targeted purity of Oxygen (93%±2%)
Company's main business
Our company mainly deals in gas equipment :Cryogenic Air Separation Plant , (pressure swing adsorption )PSA Oxygen Generator, PSA Nitrogen generator, and liquid nitrogen plant. Provide customers with product structure matching and one-stop service.

PSA oxygen production process principle

Pressure Swing Adsorption (PSA) gas separation technology is an important branch of non-cryogenic gas separation technology, and it has an irreplaceable position in the field of gas supply in today's world. This process uses molecular sieves with capillary pores as adsorbents, and utilizes the difference in diffusion rate of oxygen molecule O2 and nitrogen molecule N2 in molecular sieve. Nitrogen and CO2 molecules in the air are absorbed into the pores, while most of the oxygen molecules O2 flow through the capillary pores into the oxygen collecting and storing tank in the later stage to be enriched. Molecular sieve has the characteristics of adding air pressure adsorption capacity increasing, and reducing air pressure adsorption capacity reducing, using this characteristic, the pressure swing adsorption method can be used to carry out continuous and uninterrupted oxygen and nitrogen separation. So as to achieve the preparation of 35%-95% purity room temperature oxygen. The PSA oxygen generator adopts a dual-tower parallel design. When tower A reaches saturation, it will switch to tower B for oxygen production through pressure equalization and other processes. At this time, tower A is vented and purged and regenerated, waiting for the next cycle of the oxygen generator; thus, double-tower alternate oxygen production is realized. In the latter stage of the oxygen collection process tank, high-purity continuous supply of oxygen is obtained, and finally the pressure is stabilized by adjusting the pressure and then transported to the gas point through the pipeline.

Service for Oxygen Generation Equipment PSA medical production plant for Global market
1. Reply in 24 hours.
2. Customized oxygen plants type、colour and size.
3. Every oxygen plants will be tested before the delivery.
4. Delivery on time and excellent after-sales service.
5. High quality, reliable price.