1 ton Water Cold Diesel Engine Utility Roller With 700 mm (28") Tandem Vibratory Drums
FYL-850S mini vibratory roller is another model of 850 series road roller, adopts water-cooled diesel engine, easy maintenance, substantial and durable. 
The steering wheel and driver seat help to maneuver the powered walk-behind roller conveniently.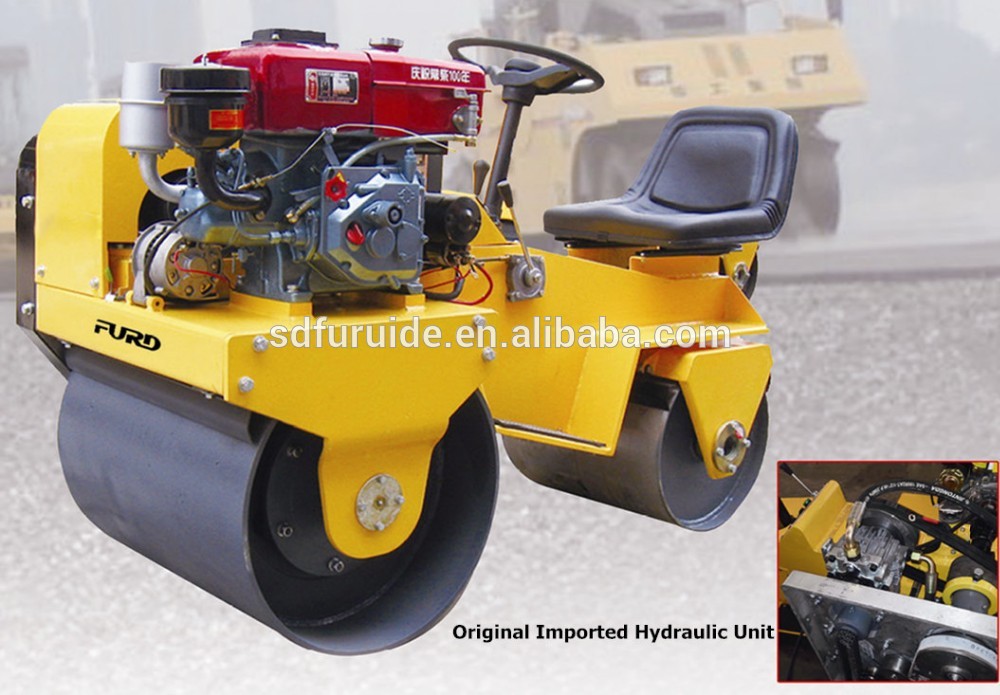 Application: 
For compaction of asphalt surface, compaction of gravel, sand and other projects.  

This Ride-on Road Roller can be applied to compacting and maintaining various roads, parking area, expressway shoulders, sidewalk, sports ground and garden lawn.
Features:
1). Operating radius is small, can work in small area. 
2). Domestic famous water-cooled diesel engine, quality assurance, superior performance, easy to start.
3). The use of famous brand hydraulic drive unit, variable speed, reversing convenient.
4). Diesel power with electric startup, light and flexible. Vabration control is electromagnetic clutch, easy to operate.  
5). Luxury seating, easy to adjust, work comfortably.  
6). Adopt international famous NSK bearing MITSUBOSHI trangle belt to ensure the work performance of the machine.  
7). Surface spray, beautiful appearance, rust resistant.  
Mini Diesel Engine Vibratory Double Drum Compactor 
Technical Parameter:Small Riding Double Smooth Drum Vibrating Road Roller
Model

FYL-850S

Walk Speed

0-5km/h

Water tank

15L

Gradeability

30%

hydraulic oil tank

3.6L

Drive Type

hydrostatic drive

Engine Model

CD180

Vibration Control

Electromagnetic Clutch

Power

7.0HP/3600rpm

Static linear load

77N/cm

Steel Wheel Size

φ560*700mm 




φ425*500mm

Nominal amplitude 

0.3mm

Package Size

1900X1100X1300mm

Vibration frequency 

75HZ

Net Weight

820kg

Exciting force

20KN

Starting Mode

Hand/Electric
Mini Diesel Engine Vibratory Double Drum Compactor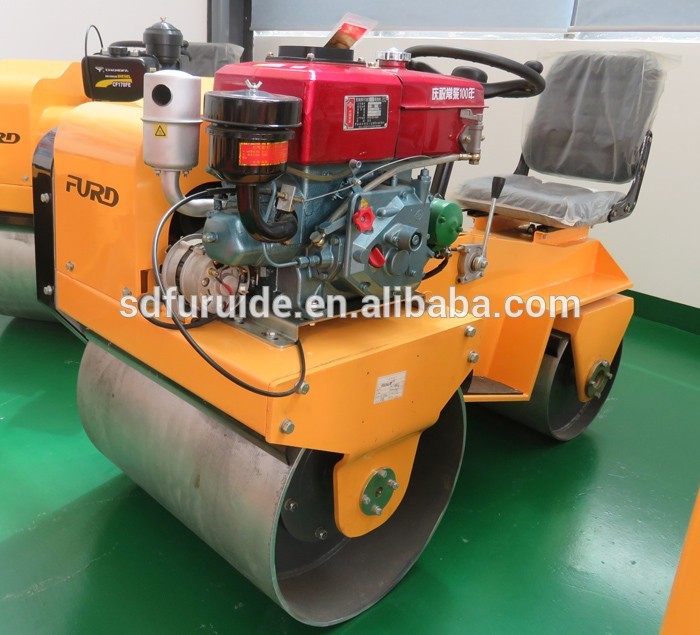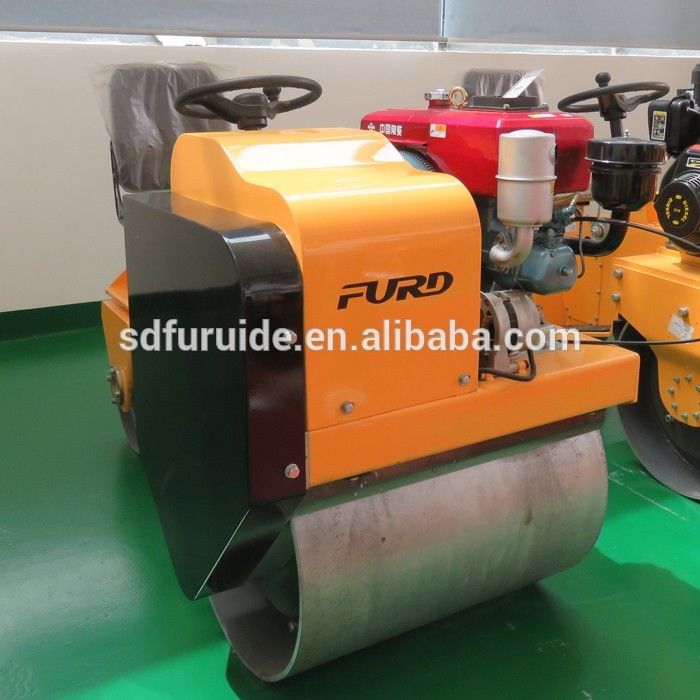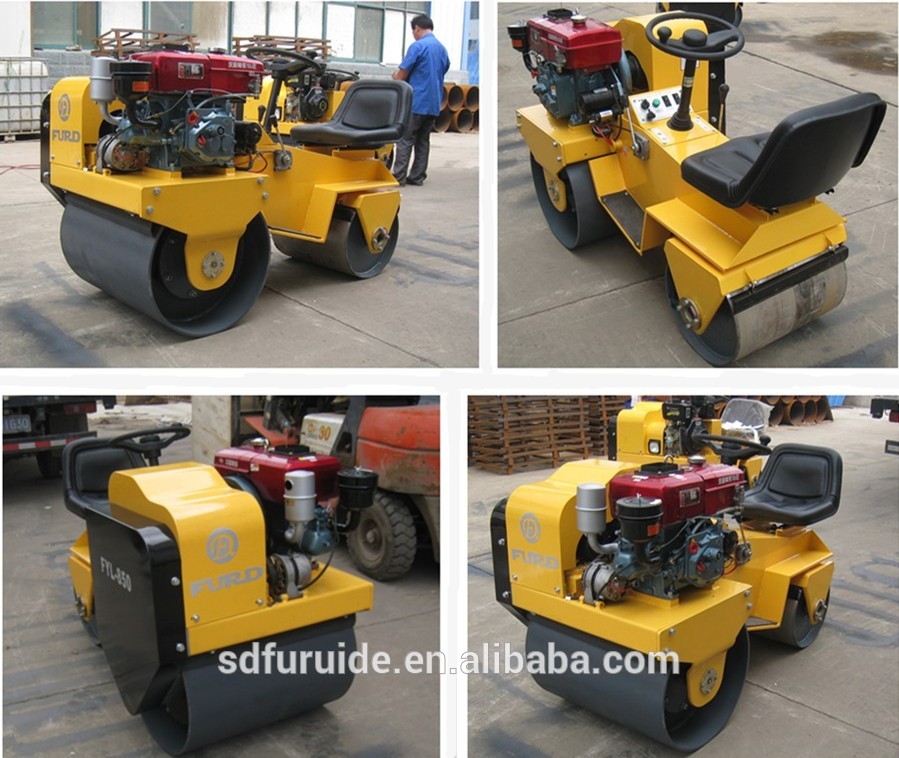 Mini Diesel Engine Vibratory Double Drum Compactor 
FURD Ride On Vibratory Road Roller
FYL-900(fully hydraulic drive & steering & vibration, 2000kgs, 30KN, Perkins engine and Honda engine Optional)
FYL-880(fully hydraulic drive & steering, 1000kgs, 25KN, Water cooling diesel engine/ Air cooling diesel engine/ Honda gasoline engine)
FYL-850(hydrostatic drive, mechanical steering, 800kgs, 20KN, Water cooled diesel engine/Air cooled diesel engine)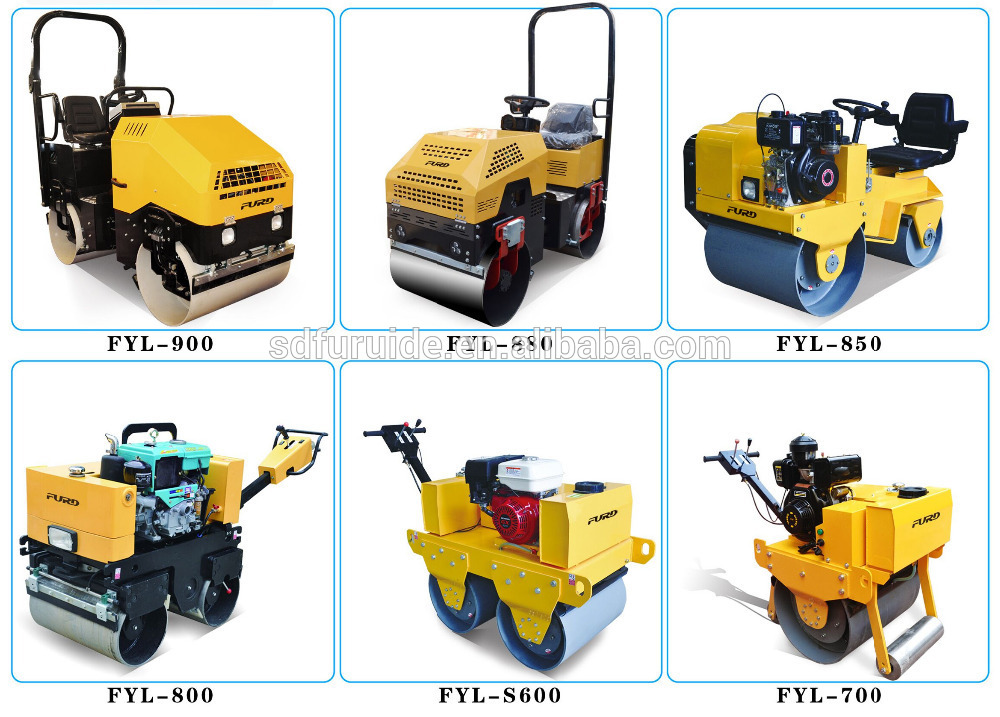 Mini Diesel Engine Vibratory Double Drum Compactor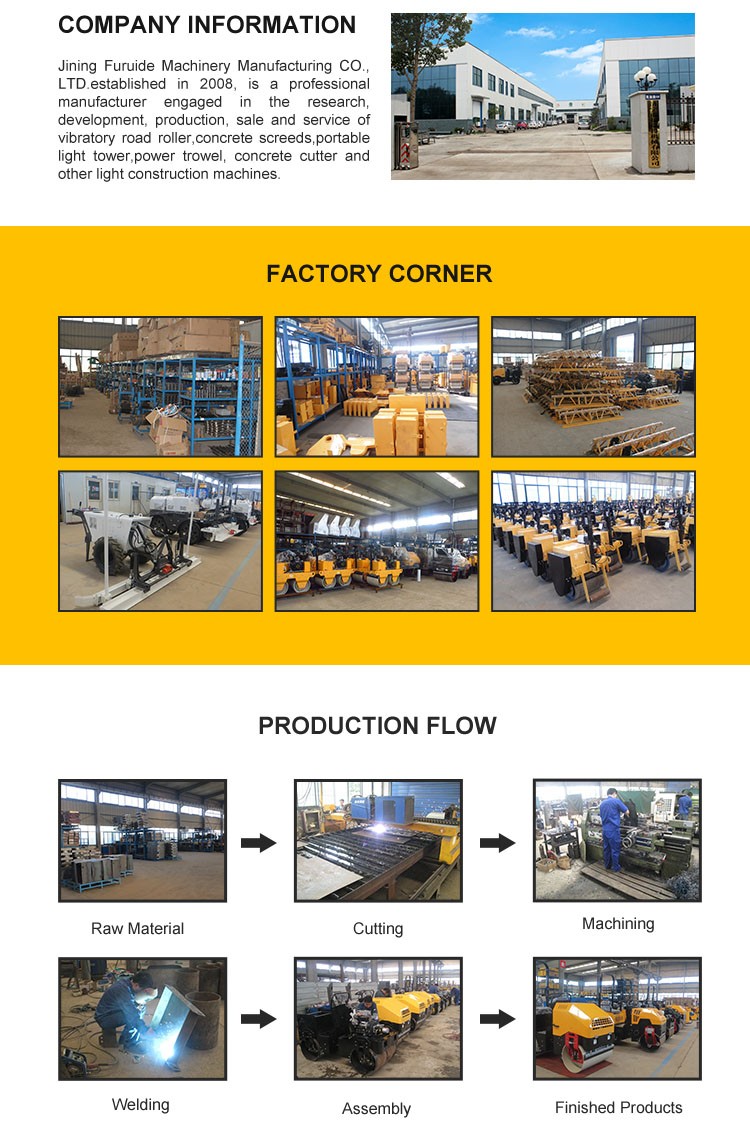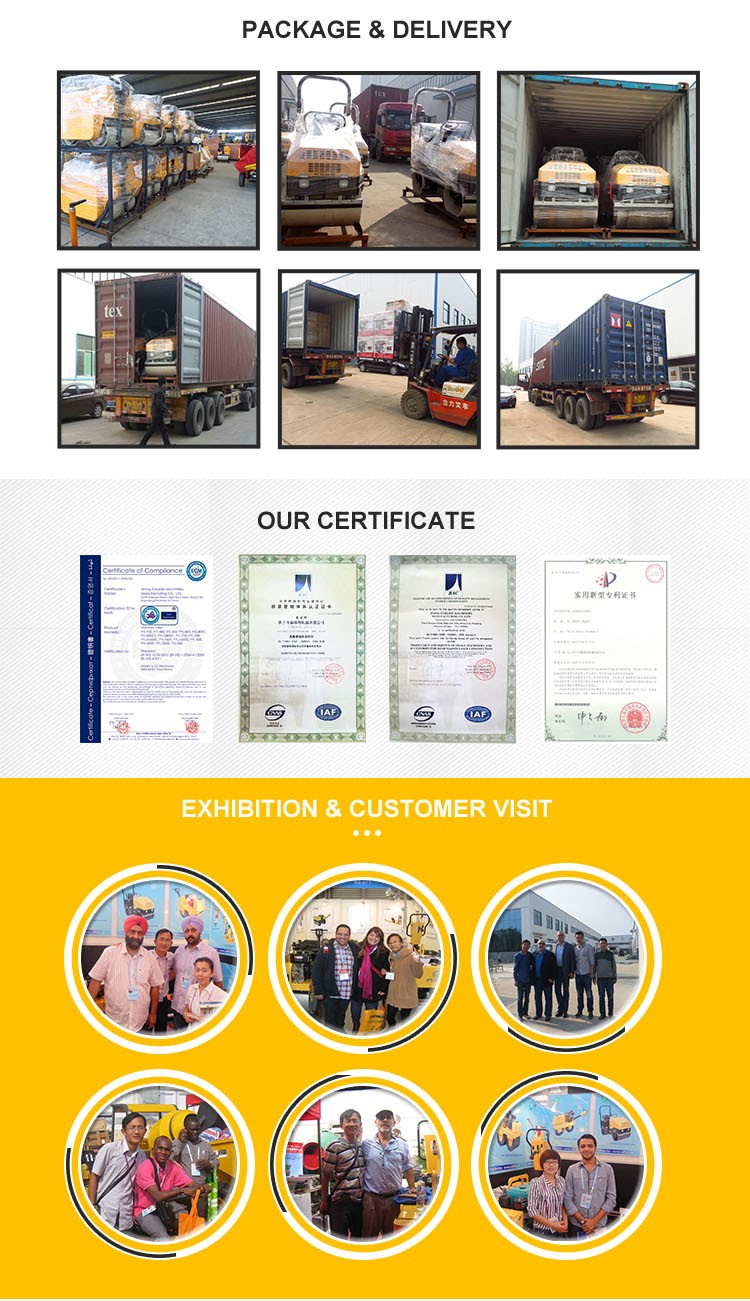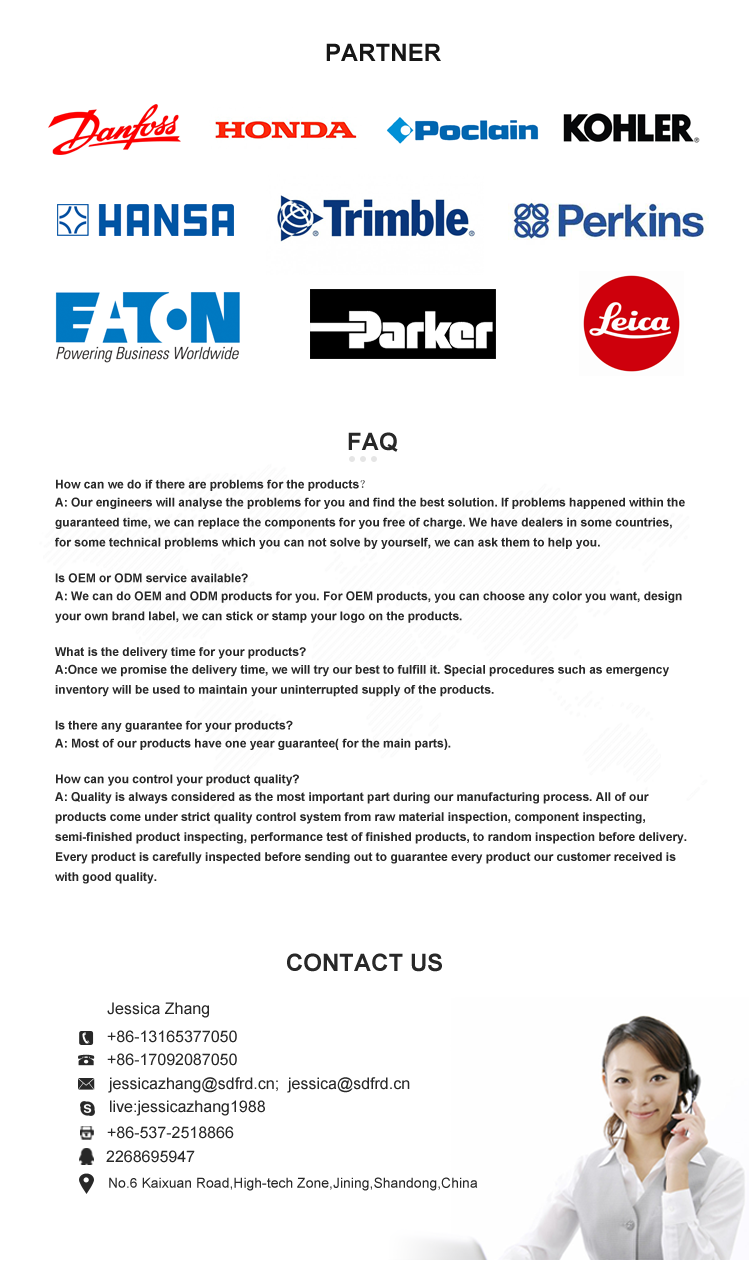 Thanks to pay attention to our products. We will be appreciate to hear from you for any question. If you need any information, please don't hesitate to contact us.