JOYLONG Alternator ASSY XINCHEN POWER DK4 ENGINE PARTS
FANEVER Automotives supply the good quanlity and best price for the Joylong .
We do genuine parts OEM parts to satisfy different market demands.
More information please click JOYLONG SPARE PARTS,XINCHEN ENGINE PARTS for different parts.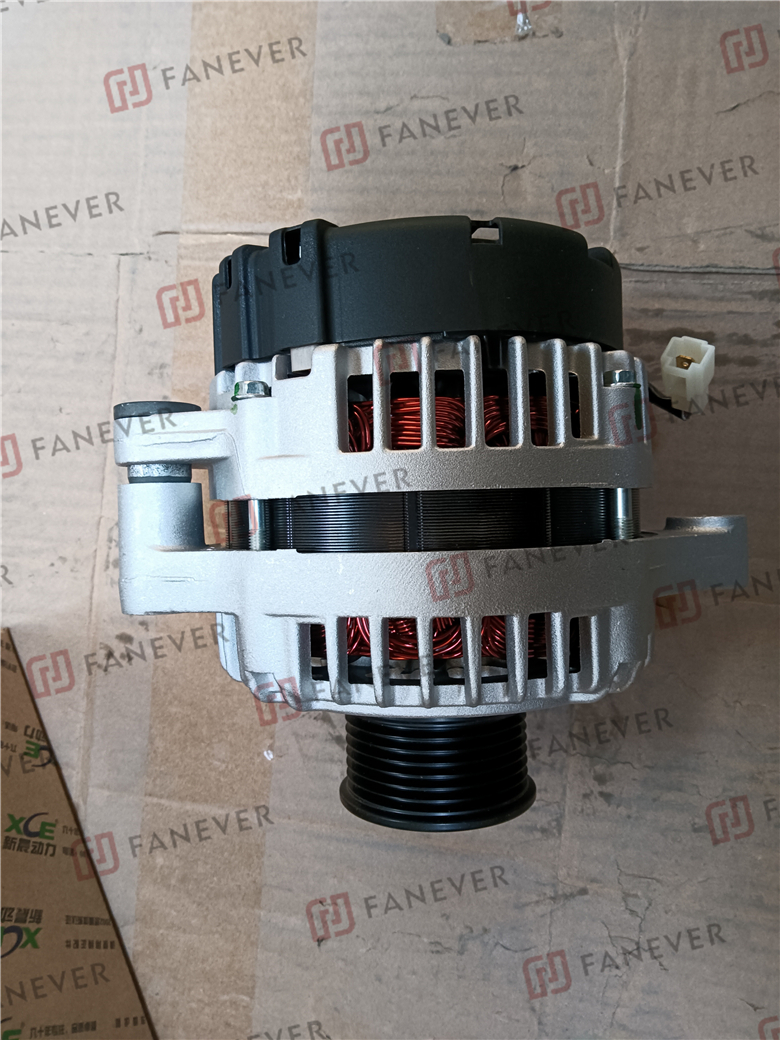 Quality Insurance
1.FANEVER Automotives promise to offer genuine parts, OEM pars and high quality after-market parts follow the customer's choice.
2.Any quality problem of parts, we promise to re-delivery or reduce payment.
3.Any transportation, we promise to packing in strong carton box or wood box, even shipping by container or fliht.
4.24 hours after sales service.
Our Service
Shaoxing Keqiao Fanever import and Export co., ltd we mainly manage the Commercial-Truck spare parts of FOTON, FORLAND, JAC, JMC, SAIC, YUEJIN, SINOTRUCK, JINBEI, DONGFENG, BAW, SHACMAN ect. SUV & Pickup spare parts of JAC T6, GREAT WALL HAVAL, GREAT WALL WINGLE, FOTON TUNLAND, JMC VIGUS CHERY AND CHANGAN. MINI BUS Spare parts of JAC Refine, JAC SURAY, FOTON VIEW, JINBEI HAIISE, JOYLONG ECT. Construction Machinery Spare parts of SDLG, XCMG, LIUGONG, LONKING, FOTON LOVOL ECT. Engine spare parts 4 cylinder to 6 cylinder for WEICHAI POWER, YUCHAI,, SHANGCHAI, YTO, FAWDE XICHAI, FOTON CUMMINS, DONGFENG CUMMINS( DCEC), JAC CUMMINS, JAC NAVISTAR, CHAOCHAI (DCD),QUANCHAI, YUNNEI, SOFIM, YANGDONG, CHANGHAI, LAIDONG, ISUZU, LOVOL Perkins, MIANYANG XINCHEN (XCE) ect.
Gearbox parts Engine parts Chasis parts Cab PARTS
| | |
| --- | --- |
| JAC LIGHT TRUCK | HFC1020 HFC1025 HFC1030 HFC1040 HFC1040S HFC1045 HFC1048 HFC1061 HFC1063 HFC1068 HFC1083 HFC6700 HFC680 HFC6832 X |
| JAC HEAVY TRUCK | HFC3048 HFC3072 HFC4253 HFC1134 HFC1131 HFC3045 |
| JAC BUS | REFINE SUNRAY, JAC6700 JAC6710 JAC6782 JAC6800 JAC6810 |
| JAC PICKUP | T6 T8 |
| FORLAND | BJ102 BJ1032 BJ1036 BJ1039 BJ1049 BJ1069 BJ3042 |
| FOTON MINI BUS | FOTON VIEW |
| FOTON PICKUP | FOTON TUNLAND |
| JMC | JMC 1020 JMC 1030 JMC 1040 JMC VIGUS |
| SAIC YUEJIN | NJ1020 NJ1028 NJ1040 NJ1043 NJ1062 NJ3028 NJ3043 |
| DONGFENGG (DFAC) | EQ1022 EQ1030 EQ1032 EQ1040 EQ1044 EQ1045 EQ1060 |
| JINBEI | SY1033 SY3040 SY3090 JINBEI HAISE |
| SINOTRUK | HOWO HOMAN SITAR |
| WEICHAI POWER | WD615,WD618 WD10 WD12 WP10 WP12 |
| YANGCHAI | YZ485,YZ485ZLQ, YZ490D, YZ4102QF YZ4102ZLQ YZ4105QF YZ4105ZLQ YZ4DA1 |
| YUCHAI | YC4F YC6J YC4102 YC4105 YC4108 YC4110 YC4112 YC6105 YC6108 YC6112 YC4D12-21 YC4E140-20 YCF4F90 |
| SHANGHAI | D6114 C6121 |
| FOTON CUMMINS | ISF 2.8 ISF 3.8 |
| DONGFENG CUMMINS (DCEC) | 4BT 6BT 4CT 6CT 4B3.9 6C8.3 6L ISBe ISCe ISLe |
| CHAOCHAI (DCD) | CY485 CY490 CYQD32 CY4102 CY4110 CY4102QBZL CY4102EZL CY4105 |
| XICHAI FAWDE | WX485 WX490 WX4110 WX4102 WX4100 WX4113 CA4DF2 CA4DX22 CA4DX23 CA4DF3 CA6110 CA6113 CA6DF1 CA6DF2 CA6DL CA6DM |
| YUNNEI POWER | YN490QB YN490ZLQ YN4100QB YN4100QB-2 YN4100QBZL YN4102QB YN4102QBZ |
| JAC HFC4DA1 | HFC4DA1-1 HFC4DA1-2B |
| JAC CUMMIMS | HFC CUMMINS 2.8 HFC CUMMINS 3.8 |
| YANGDONG | YSD480 YSD485 YSD490 YSD490L |
| CHANGHAI | 475 480 485 490 4L68 4L88 4F18 4B26 4F20 CZ2102 CZ4110 4D20 4D28 |
| ISUZU | 4JB1 JX493q, JX493ZLQ3, JX493Q4 BJ493 BJ493ZLQ BJ483 |
| LOVOL PERKINS | Perkins Phaser 135Ti |
| XINCHEN POWER (XCE) | 491 DK4A DK4B DK5B ZD25TCR |
| GREAT WALL | HAVAL WINGLE 5 H3 H5 H6 M4 C30 C50 GW4D20 GW4G15 GW4G5B |
| LAIDONG | LD380 LD480 LD495 4L18 4L22 4L23 |